While we cannot provide you with tax advice, we have put together this article to help you through the process. This has the caveat that you should always seek advice from a professional accountant/tax advisor because we are not authorized to advise about your specific tax situation, including filling out your specific tax form.
This article is about the W9 form, we have equivalent articles for W-8BEN.
What's required?
Each US citizen who was a part of a team that is a citizen of the United States is required to complete a standard IRS form called the Form W9 which includes some basic information about you, including your Social Security Number (SSN).
How to Complete and Submit a Form W-9
To help you provide this information quickly and easily, you have been provided a W-9 form on OpenQ
Part 1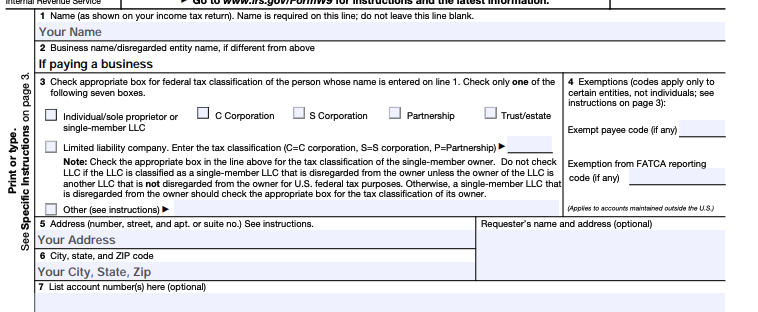 The first section of the form asks you for your personal details. In this section, please provide details including your name, country, and postal address. Please ensure that you provide a complete address because we will use this address to send you a hard copy of your Form 1099, which is your US earnings summary for the year.
You will also need to select the tax classification that applies to you.
The tax classification on the Form W-9 refers to the individual who received the U.S sourced income.
A Taxpayer Identification Number is an identification number issued by the United States' Internal Revenue Service (IRS) or the Social Security Administration (SSA). A Social Security Number (SSN) is issued by the SSA whereas all other TINs are issued by the IRS.
Taxpayer Identification Numbers:
Social Security Number (SSN)
Individual Taxpayer Identification Number (ITIN)
You're also asked to fill out your tax ID type (SSN) and tax ID number. Please make sure you provide the correct SSN as the IRS may impose penalties for incorrect SSN

Part 2
In the next part of the form, you need to certify that the information you've provided is correct.
Please make sure you understand all the items under this section. The purpose of the Form W9 is to establish your identity and status as a US. person. It is important to note that providing false information is subject to penalties under perjury.
You will also need to acknowledge the certification and provide your name as an electronic signature.



Once you've submitted your information be on the lookout for an email that says you can claim your prize on chain, or asks for you to make changes / updates to your form.
if you need further details, please see the following IRS Help articles: